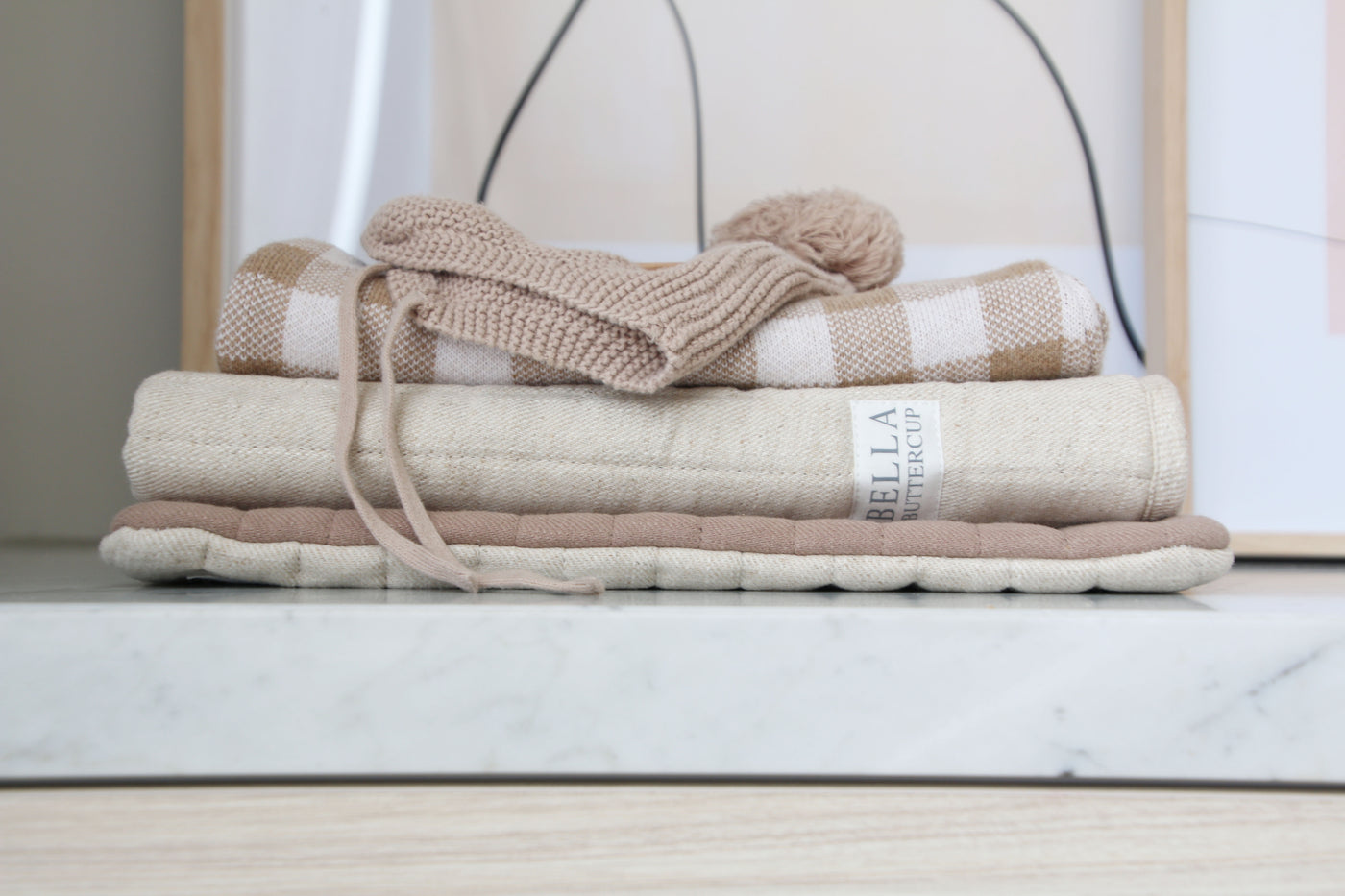 Changing Bundle in Almond
$90.00 AUD $90.00 AUD
Elevate Your On-the-Go Parenting Game
ALMOND - Natural and Cocoa
IN STOCK NOW AND SHIPPING AS USUAL

Introducing the Ultimate Baby Essentials Set: Bella Buttercup's Quilted Clutch Bag and Matching Change Mat
A clutch bag for storing your changing essentials and matching baby change mat, both in our new signature Bella Buttercup quilted design.
The nappy clutch easily stores a handful of nappies along with wipes and creams, ensuring you will never be caught off-guard when on the go again.

The change mat is ideal for changing your baby in public spaces. The perfect accessory which folds down to a size of a nappy and can be stored in a nappy bag or Bella Buttercup Nappy Clutch.
-Quilted finish offers comfort and style
-Cushioned for hard surfaces
-Perfect size for changing babies and toddler
-Two-tone colour design
-Easy zip opening on clutch
-Machine washable
-Mat Measures 40cm x 60cm, Clutch 32x24cm
- Stitching Distance 2.5cm
Available with or without a nappy clutch attachment for easy opening, choose attachment from options in the dropdown box.
Composition:
Main Front: 53% Cotton/24% Ramie/23% Linen
Main Back: 56% Cotton/44% Ramie
Fill: 100% Polyester
Care: Delicate machine wash or spot cleaned when required. 
Do not use brighteners to wash your Bella Buttercup Quilted Collection products, this may cause fading.

Nappy Clutch Attachment:
The Luxe Mama detachable clutch attachment not only looks great but helps to make your clutch easy to open in a hurry. With gold toned hardware and beautiful tiered layers in neutral tones, it's the perfect upgrade.
Nappy clutch attachments are not a toy, do not leave your baby unattended.