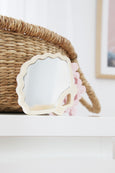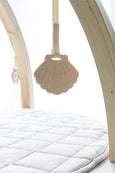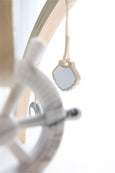 Ariel Shell Mirror
$12.00 AUD
For those who love to be beside the sea-side! Our Ariel wood toy is a beautiful shell which has engraved lines on one side to create texture for little fingers, and a mirror on the other side providing entertainment and for babies to begin to recognise their own reflection.
For the safety of your babies we have not actually used a glass mirror, its a reflection sheet. The mirror itself comes with a protective film on it, please remove this before use.
This toy is sold separately for individual use and it can be bought as an addition to the Bella Buttercup Play Bar or Mini Bar.
Measurements: 9cm L X 8cm H x 1.2cm W 
Strap is not included.
Wooden toys are proven to be safer to use and better at helping to develop babies cognitive play skills, through the use of their imagination and helping to develop hand eye co-ordination.
To clean, do not soak wood toys. Soaking causes the wood to swell, which can lead to cracking and splitting of the wood. Please use warm water and a soft cloth and let it dry in natural sunlight.
Please check toys before use and do not leave your baby unattended. Toys should be replaced after 9 months due to hygiene and safety reasons. Not designed to be used with any other brand of play gym.