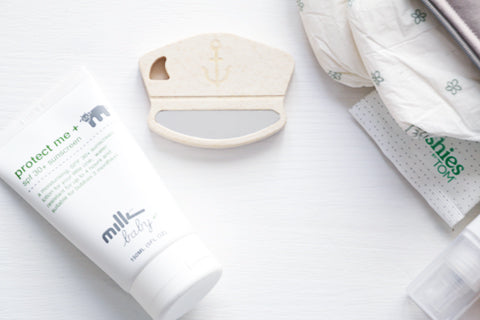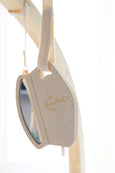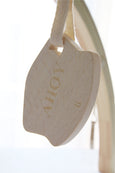 Sailor Hat Wood Mirror (Imperfections)
$3.00 AUD $12.50 AUD
This product has imperfections, the mirror does not fit the cut out shape perfectly or the text may be off centre. Please see images for an example. This product has not been used. 
Ahoy there matey! The Sailor wood toy is a easily recognisable hat shape. It has engraved AHOY wording on one side to create texture for little fingers, and a mirror on the other side providing entertainment and for babies to begin to recognise their own reflection.
For the safety of your babies we have not actually used a glass mirror, its a reflection sheet. The mirror itself comes with a protective film on it, please remove this before use.
Measurements: 9cm L x 6.5cm H x 1.2cm W
Strap is not included.
Wooden toys are proven to be safer to use and better at helping to develop babies cognitive play skills, through the use of their imagination and helping to develop hand eye co-ordination.
To clean, do not soak wood toys. Soaking causes the wood to swell, which can lead to cracking and splitting of the wood. Please use warm water and a soft cloth and let it dry in natural sunlight.
Not designed to be used with any other play frame. Please check toys before use and do not leave your baby unattended. Toys should be replaced after 9 months due to hygiene and safety reasons.