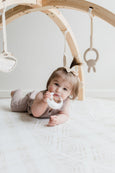 Luna Silicone Teether (available in different colours)
$12.00 AUD $12.00 AUD
Luna has been designed with a circular shape (full moon) and a solid crescent moon. The hollow area allows the your little one to hold the teether properly and encourage development of their fine motor skills.
Luna can be used individually or as an addition to the Play Bar and Mini Bar.
Measurements: 8.5cm round.
Strap is not included.
Your baby will find that developing his /hers skills is more fun when they have a frequent change of position and activity. Small challenges, made often, are best for your baby's development.
Silicone toys are proven to be safe, easy to clean and great for babies to use to self-soothe while going through their natural teething phase.

- Made of 100% Food Grade Silicone
- BPA Free
- 100% Non-toxic
- Cadmium Free
- PVC Free
- Mercury Free
- Lead Free
- Phthalates Free
- SGS Approved
- Non-stick
- Odourless
- Eco-friendly
- Easy to clean ( soap and water!)
Please check toys before use and do not leave your baby unattended. Toys should be replaced after 9 months due to hygiene and safety reasons. Not designed to be used with any other brand of play gym.