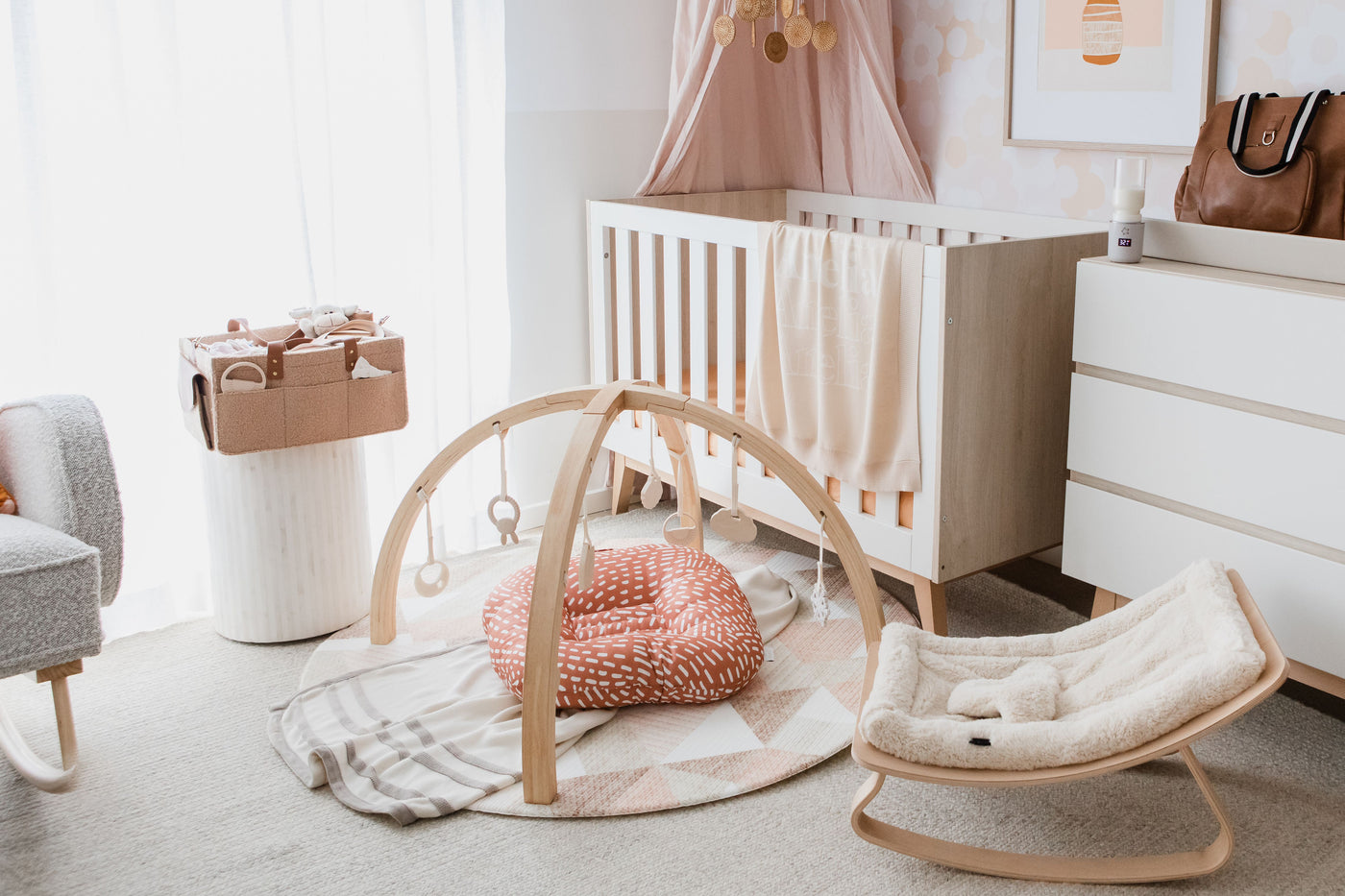 Wooden Baby Play Bar - Sold Out
$200.00 AUD
Currently Sold Out - Sign up to Our mailing list for restock info
Important Update: We have decided to move part of our manufacturing process for this product to be closer to our shores to ensure quality is at a high standard. Our wooden cross section (middle cross) is now sourced and handmade made in New Zealand. This has meant we have chosen to do smaller productions to help us manage the increase of wood prices. 
Package includes
-Play Bar (wood frame) 118.5cm x 118.5cm x 60cm H
-Eight natural cotton straps, to hang your toys.
-Eight toys ( four wood + four silicon) 
Ariel/Sailor Hat, Silver Linings. True Love, XO 
Shake It, Luna, Snowflake and Honey Bunny, Rise and Shine
Girls set silicon toys: Shades of pink, white and soft grey 
Boys set silicon toys: Shades of blue, white and soft grey 
Neutral set silicon toys: Soft beige, white, aqua

For more details on our toys that are included with the Play Bar please click below:
View Toys
Our Play Bar is handmade and made from natural materials - wood grain and colour do vary.

The Play Bars Scandinavian inspired look brings a refreshing take on the traditional baby activity/play gym. The toys have been individually designed to amuse, educate and entertain. They hang from the Play Bar using a natural toned strap with a Velcro finish, making it easy to attach toys and hang them at different levels for your baby to grasp, pull on and chew. The Play Bar was designed with an interior design focus, so you don't have to put it away for visitors.

Suitable for use from newborn through to 10/12 months (depending on the development of your child). It's a must have product for your baby to help explore important milestones such as tummy time, rolling and learning to touch and feel.
The Play Bar and additional toys should always be used with adult supervision, do not leave your baby unattended.
Designed inline with AS/NZS 8124 standard

Care Instructions
Play Bar:
Your Play Bar can be wiped clean with a damp cloth.

Silicon Toys:
Our silicon toys help your baby during their teething phase, by offering a smooth surface which feels soft on their gums and encourages teeth to come through. All products are made using the highest quality grade of silicon, making them safe to use and easy to clean.
Made of 100% Food Grade Silicone
Non-toxic
Odourless
Eco-friendly
Easy to clean (Please wash with mild soap and water)

Wooden Toys:
Our wooden toys are made with natural unfinished wood. To clean please use a soft cloth and mild soapy water, rinse well. Never use a heat method to dry the toy. Heat dries out the wood and will cause the toy to crack or split.

Natural cotton straps:
Cool machine wash on a delicate cycle. Not designed to be used with any other play frame.

Please check hanging toys before use and discard at first signs of wear. Toys should be replaced after 9 months due to hygiene and safety reasons.