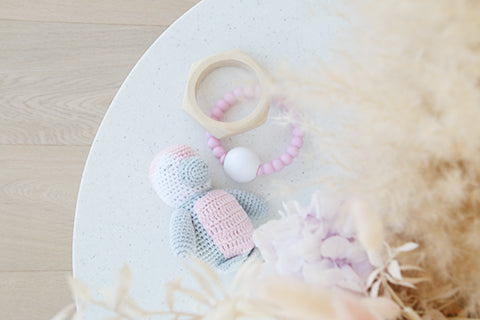 Shake It Silicone Rattle - Pink
$12.00 AUD $12.00 AUD
Shake it! Do just that and our new toy becomes a rattle.
Baby rattles might not look like much fun to an adult, but these ordinary infant playthings spark an array of sensory experiences for babies. A simple rattle can amuse and engage your baby as well as aid in their development. By integrating rattles into daily playtime with your baby, you can promote and strengthen your child's fine motor abilities and help them reach cognitive milestones.
Shake It has been designed with a textured silicone circular shape which is easy to grip and hold . The white ball rattles when moved. 
This toy can be used with the Play Bar and Mini Bar, but can also be used separately. 
Measurements: 9.5cm L x 9.5cm H x 1.cm W, White rattle ball 4cm.
Strap is not included.
Your baby will find that developing his /hers skills is more fun when they have a frequent change of position and activity. Small challenges, made often, are best for your baby's development.
Silicone toys are proven to be safe, easy to clean and great for babies to use to self-soothe while going through their natural teething phase.
- Made of 100% Food Grade Silicone
- BPA Free
- 100% Non-toxic
- Cadmium Free
- PVC Free
- Mercury Free
- Lead Free
- Phthalates Free
- SGS Approved
- Non-stick
- Odourless
- Eco-friendly
- Easy to clean ( soap and water!)
Please check toys before use and do not leave your baby unattended. Toys should be replaced after 9 months due to hygiene and safety reasons. Not designed to be used with any other brand of play gym.